The Squids are back: bigger and better! The epic adventure continues as our band of stretchy heroes explore the underwater Wild West, fight back against the evil Black Ooze, and search for Winnick, their fallen comrade.
If you don't know SQUIDS yet, SQUIDS Wild West is a great place to start! 

SQUIDS Wild West has a unique mix of action strategy and RPG: build your team of heroes for challenging turn-based battles against corrupted crabs and shrimp!
This sequel is even better than the original, with many surprises in store: devious new enemies, four new playable characters, and nearly twice as many levels. You can even ride seahorses into battle!
Get it now on Google Play:
HD version for tablets and powerful smartphones: http://bit.ly/ZDGkhx
SD version for smartphones: http://bit.ly/Y2rPEP
And the full press release below!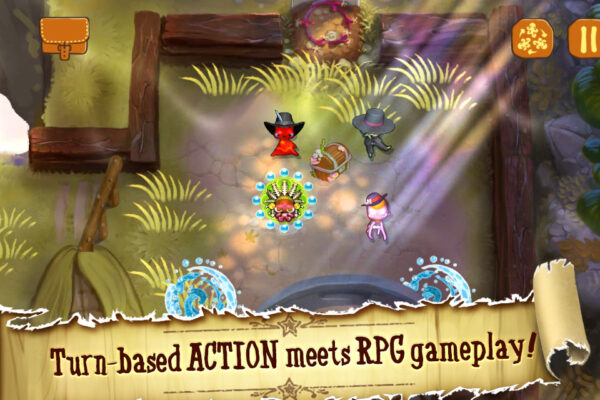 Saddle Up, Cephalopods! SQUIDS Wild West Launches on Google Play
Chart-Topping Turn-Based RPG Optimized for Android Devices
PARIS–( Mar 8, 2013) – SQUIDS Wild West continues the story that started in chart-topping SQUIDS while offering exciting new gameplay challenges and improvements, ensuring it will be a hit with returning fans and new players alike.
In SQUIDS Wild West, a team of springy heroes continues their epic adventure across the seven seas to put a stop to the black ooze sliming up their idyllic kingdom. While exploring the aquatic frontier of Seawood, hometown of gunslinger Clint, players will meet up with four new playable Squids, including feisty cowgirl Calamary Jane and the mysterious Chief Ronimo. Plus the group will encounter a bevy of new enemies, environmental obstacles, stat-boosting helmets, and wild seahorses that can be captured and ridden into battle.
The colorful cartoon artwork, humorous storytelling, and catchy music fans loved in the original SQUIDS are back in the sequel, along with a number of new features and gameplay improvements. User interface enhancements make it easier for players to customize their party, adjust a mission's difficulty level, and unlock in-game items.
« We are very happy to bring the game to Android players, in particular to the many SQUIDS fans that were eager to discover our heroes' new adventures, » says Emeric Thoa, The Game Bakers' creative director.
For the launch of SQUIDS Wild West, the original SQUIDS is also updated with new characters and missions, as well as Korean, Chinese, Japanese and Russian languages.
Learn more about SQUIDS Wild West or join the fan community on
Facebook (http://www.facebook.com/squidsthegame),
Twitter (http://www.twitter.com/squidsthegame).
About Strastar
Strastar, Korea, is developing its publishing platform to distribute mobile games in Asia. Its BindApp service provides users with a convenient way of sharing their content on mobile.
http://www.strastar.com
http://www.twostargames.com
http://www.bindapp.com